• are crypto trading bots profitable • are crypto trading bots worth it • Buying the dip • create a business • create an income • create passive income with crypto • crypto class for investors • crypto Dollar cost average • crypto investing for beginners over 50 • crypto investment strategy • crypto is the future • DCA • HODL • HODL BTC • hodl crypto • HODL strategy • trade crypto
How Much Crypto Should You Have Right Now? According to the Washington Post, experts recommend that your investment portfolio should have 2%-5% of crypto. But what exactly does that mean? Should you just HODL bitcoin? Or Ethereum? Or Should you hunt for altcoins in hope for that big payday? Should this be a balance of all? If so, how do you strike the right balance? What do you do when crypto market completely bombs like it has now? Counterintuitive Crypto Approach... Headlines Will Tell You One Thing, BUT… All these questions have a very simple answer. Take it easy. Don't listen...
---
• capitalize on good investments • create an income • create crypto wealth • crypto trading strategy • crypto trading tutorial • crypto training down market • crypto training event • crypto winter passive income • down market bottom feeder • financial freedom • financial independence • HODL • income strategy • invest in crypto • investment goals • investment plan • new crypto approach • new training • smart crypto money • stable coin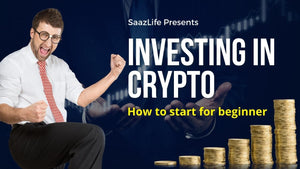 Smart Money Is Doubling Down On Crypto I like roller coasters just as much as the next person… UNLESS my money is involved! Cryptocurrency can feel like a roller coaster to many - I get that. Even though, come to think of it, the analogy I'd use is perhaps this: crypto right now to a haunted house. It's scary, you never know where the next monster is going to come from, and a lot of people have run out screaming and have sworn never to get back in. Is it all that bad? Not at all. If you look at...